How To Prepare for Divorce
May 8, 2023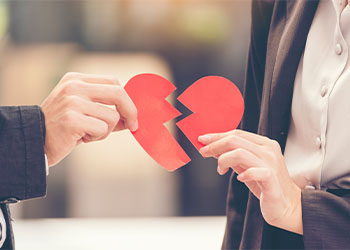 22,781 divorces occured in Michigan in 2021. While this number may speak to the commonality of divorce, it doesn't dismiss how isolating the process can feel. If you are contemplating divorce or you have recently been served papers, it's completely natural to feel overwhelmed at the prospect of a long and difficult process.
In addition to dealing with the emotional stress and anguish a divorce can bring, you may find yourself at a loss when faced with child custody and other serious matters without proper legal help.
If you are looking for a divorce attorney in Michigan, look no further than Steven L. Rotenberg. His firm serves Bingham Farms, Michigan, as well as Monroe, Pontiac, Mount Clemens, and the Detroit metropolitan area. Steven L. Rotenberg will bring more than twenty years of family law experience to your divorce case and will advocate for your best interests, no matter what.
Things to Consider Before Filing for Divorce
Before you serve your spouse divorce papers, make sure you've considered the following matters.
Marriage Counseling
It might be wise to undergo some marriage counseling sessions in order to determine whether the marriage is salvageable. If this is not the case, attending counseling sessions can serve as an opportunity to set the terms of the divorce with your spouse and determine whether the divorce is likely to be contested or uncontested.
The Type of Divorce
Michigan is a no-fault divorce state, meaning that the court will grant the divorce regardless of which spouse caused the marriage to fail. However, the types of divorce can determine what kind of experience you have during the process.
An uncontested divorce occurs when the spouses mutually agree to end the marriage and also agree on the terms of the divorce. If the divorce is contested, the spouses do not agree on matters such as child custody and distribution of property and finances. In the case of a contested divorce, an attorney can represent your best interests in court.
Your Living Situation
An experienced divorce attorney can also fight for the best living situation for you. This is important if the spouses do not agree on who should remain in the family residence during the divorce process, especially if children are involved.
Steps to Take to Prepare for the Divorce Process
While every divorce is different, there is a general framework to follow as you prepare for the legal process. To put your best foot forward, consider the following steps:
Hire an Experienced Family Law Attorney. One of the most important steps to take when getting divorced is to hire a divorce attorney who will advocate for you and your family in court assist you with compiling and understanding relevant paperwork.
Secure Assets and Accounts. One of the first things your attorney may advise you to do is create a new bank account in your name only. You may also want to change the passwords to financial accounts that are already in your name, as well as to email accounts that may contain sensitive information.
Gather Personal Information. Make copies of important documents such as your social security card, marriage license, and proof of residency for you and your spouse, as well as any paperwork with information about you and/or your spouse's employment and earnings. Your attorney will need these to file important documents, send you information, and ensure fair payment of alimony and/or child support.
Assess Your Financial Situation. You'll also want to provide your attorney with tax returns, pre- or postnuptial agreements, and life insurance policies. This helps your attorney present a comprehensive view of your finances to the court in order to argue for a fair financial settlement.
Identify Personal vs. Married Property. To further aid your attorney, you should compile paperwork pertaining to property in your name and in you and your spouse's joint names. This can include houses, household items, personal belongings, vehicles, bank accounts, retirement accounts, stocks, security deposit boxes, etc. It is also hugely important to gather information on any debt you or your spouse may have incurred, including credit card debt, mortgages, student loans, etc. If your spouse will not provide this information, an attorney can help you get this relevant information.
Call Steven L. Rotenberg for Help With Your Divorce
These practical steps only represent the tip of the iceberg when it comes to the divorce process. But a skilled family law attorney can make sure you are prepared to handle it.
Divorce is difficult even in the best cases. With over two decades of experience in family law, Steven L. Rotenberg can guide individuals and families through each step and advocate aggressively for the outcome they deserve. If you are looking for a diligent and dedicated divorce attorney in Michigan, call Steven L. Rotenberg today to arrange a consultation.